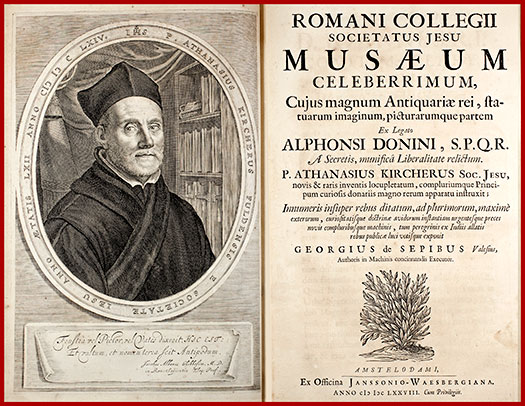 Athanasius Kircher, "the last man who knew everything", was a Jesuit polymath of the 17th century who put together an extraordinary collection in Rome which came to be accepted as the first museum of modern time. In 1678 Giorgio de Sepi published the Musaeum Celeberrimum, a large and prestigious volume cataloguing the collection. St Omers Press published a facsimile edition in 2015, a handsome cloth-bound volume including all the original fold-out plates which we printed in Croatia. This would be a worthy addition to any fine library, and copies can be acquired from the Press at Stonyhurst ([email protected]).
Jeremy Warren (sculpturem[email protected]) wrote the review below for The London Library.
Anastasi Callinicos, Daniel Höhr, Jane Stevenson and Peter Davidson, The Celebrated Museum of the Roman College of the Society of Jesus. A facsimile of the 1678 Amsterdam edition of Giorgio de Sepi's description of Athanasius Kircher's Museum, Musæum celeberrimum collegii romani societatis Jesu. Stonyhurst and Philadelphia, St Omers Press and Saint Joseph's University Press, 2015. isbn 978-0-9553592-4-8 [UK], 978-0-9161010-87-9 [US]. 172 pp., 39 b. & w. illus. £50 / $120.
For anyone who worries from time to time that the history of collecting is a niche subject, Father Athanasius Kircher (1602–1680) would seem to offer welcome comfort. The Jesuit polymath, his writings and his famous museum in Rome are the subject of enduring interest, a modest but steady stream of publications, and even a dedicated academic website, the Stanford University Athanasius Kircher project (http://web.stanford.edu/group/kircher/). Kircher was certainly an extraordinary individual, whose life reflects the troubled times into which he was born and grew up. As a young priest undertaking his novitiate in his native Germany, he was firstly caught up in the turmoil of the Thirty Years War, being driven from one Catholic centre to another before finally escaping to Paris in 1631. After moving to Avignon, he came to the notice of Nicolas-Claude Fabri de Peiresc and other antiquarian-minded intellectuals, and began his own studies into ancient Egypt and its hieroglyphs. Kircher's arrival in Rome in 1634 came about as a mixture of accident – a picaresque series of shipwrecks, robberies and other mishaps as he tried to make his way across the Mediterranean in order to take up a post in Vienna – and design, Peiresc and Kircher's future patron Cardinal Francesco Barberini having decided that the promising young man should in fact be appointed professor of mathematics at the Collegio Romano. Kircher was to spend the remainder of his life at the college, producing books on an astonishing range of subjects, from the interpretation of hieroglyphs (e.g. Oedipus Aegyptiacus, 1652) to music (Musurgia universalis, 1650) to the Tower of Babel (Turris Babel, 1679). It is hardly surprising that he should have developed a Europe-wide reputation for his encyclopaedic learning and knowledge, nicely summed up by the scholar of Kircher, Paula Findlen, in the title for one of her books, The Last Man who knew Everything (New York and London, 2004). However, the visual as opposed to literary manifestation of Kircher's learning was the museum he established in the Collegio Romano. It was a significant reason why the learned and the curious, from all over Europe and from monarchs downwards, sought to visit the College in Rome and the venerable custodian of the museum, and also bore witness to Kircher's apparently all-but-universal understanding and conception of the world.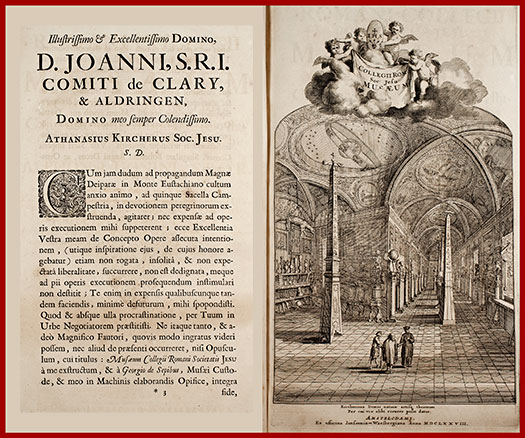 The work under review constitutes a full description of the museum, not written by Kircher, who at the end of his life became incapacitated, but by his assistant Giorgio de Sepi. As a guide to what the museum contained, the book is not as comprehensive as that published by Kircher's successor as curator Filippo Bonanni (Rome, 1709), who did much to try to restore his predecessor's vision, as well as making his own additions, and whose catalogue has an extensive series of engraved plates of many of the objects in the museum in 1709. But the 1678 work was published in Kircher's own lifetime, the descriptions are no doubt in many cases his own, and they present the museum more or less in the form in which he had built it, and before it began its rapid decline. So it is wonderful to have the first-ever full English translation in this luxurious edition, which includes a facsimile of the (slightly battered) Stonyhurst copy of the Musæum celeberrimum. This includes all the fold-out plates, mainly depicting Kircher's beloved obelisks, which formed important exemplars in his then celebrated interpretations of hieroglyphs, subsequently shown to be entirely incorrect. The facsimile is followed by an excellent English translation by Anastasi Callinicos and Daniel Höhr, with notes by Jane Stevenson. Peter Davidson concludes the volume with an interesting short essay, in which inter alia he asks what might be regarded as specifically Jesuit about Kircher's museum. He rightly points to it as a museum of world cultures, which benefited from regular consignments of material from the Jesuit order's missions to almost every corner of the globe. But this global reach is hardly untypical of early collections. What is perhaps more special, as Davidson notes, was the collection's pedagogical element, which reflected the emphasis placed by the Jesuits on education in their missions and schools.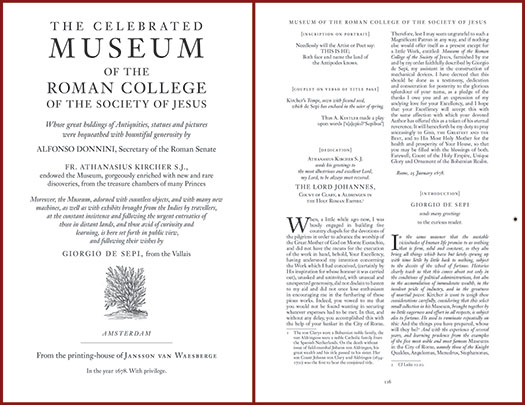 The itinerary through the museum is a fascinating one, which reveals how highly representative it was of early collections in its combination of the exotic and fantastical – flying fish suspended from the ceiling, a Siren's tail, eternally-burning lamps – with the scientific and practical, seen in the many magnetic and optical machines developed by Kircher, which were for visitors among the most popular sights of the museum. Several of these are in fact illustrated in the Latin text, and their operation discussed in some detail, which makes the lack of a simple crossreference in the translated text to the plates and other images a little regrettable. Not infrequently the fantastical and the scientific come together in the Musæum Kircherianum; for example, the flying fish was in fact suspended within a compass rose and spun about, to demonstrate the workings of an Aeolian magnet. As a Jesuit, Kircher conceived his museum ultimately as a demonstration of a world ordained and directed by God. Already, though, in his lifetime could be felt the stirrings of Enlightenment scepticism and a new spirit of more disciplined scientific enquiry, which would discredit many of the Jesuit father's theories and would lead some later generations to label him as a charlatan, dependent on magnetic and optical trickery. The 1678 Musæum celeberrimum demonstrates that the truth was considerably more complex. It confirms the status of Athanasius Kircher's assemblage as one of the great prototypes of the modern museum, so the appearance of this translation, making the work so much more widely accessible, is greatly to be welcomed.
Jeremy Warren